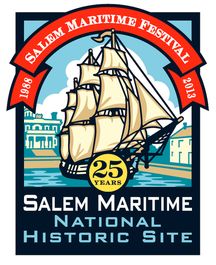 The Salem Maritime Festival
Saturday, August 2nd, 2014
10am - 4:00pm | FREE!
Visit Salem Maritime National Historic Site on Saturday, August 2, and you will discover a day of activity and fun for the whole family! Music, Demonstrations, Exhibits, and Children's Activities will be available throughout the park and on Derby Wharf. The festival will include live music, free 90-minute harbor cruises, Friendship of Salem Ship Tours, numerous kids activities including the Junior Ranger Program, boat tours & demonstrations, opportunities to cruise, sail, paddle, and row in Salem Harbor, and traditional craft demonstrations.
Harbor Cruises
Probably the most popular feature of the Salem Maritime Festival are the free, 90-minute boat rides around Salem Harbor aboard one of three vessels. All Salem Maritime Festival visitors are invited to enter a drawling for one free boat ride on the vessel of their choice. Tickets may be secured via an onsite lottery on the day of the Festival. Random drawings at the Harbor Cruise Tent on Central Wharf will be held 30 minutes prior to each cruise departure.Ticketed passengers (only) should be prepared for immediate departure down the Central Wharf gangway, and will come aboard, meet the crew and join in the hands-on activities. NOTE: All children under the age of 16 years must be accompanied by an adult.
Participating vessels are:
Schooner Fame, a full-scale replica of a War of 1812 Privateer
Ardelle, a Gloucester Schooner
Sea Shuttle's Endeavour, come aboard and learn about the marine science of Salem Sound!
In addition, the Lewis H. Story, an authentic replica Chebacco Boat, will be visiting during the Festival.
Children's Activities
Children's activities will take place on the historic wharves. There will be an entire tent of fun crafts to do. Kids can also tour the tall ship Friendship of Salem, and earn Junior Ranger badges by participating in scavenger hunts and other fun activities.
Salem Sound Coastwatch will sponsor a muck walk on Derby Wharf Beach. Learn about life at low tide in Salem Harbor. Boots will be provided. Demonstrators and Exhibitors Hands-on demonstrations and other activities will be scattered around the park.
Traditional crafts like spinning, coopering, traditional small craft building, and model shipbuilding will be exhibited in working demonstrations.
Friendship of Salem
The tall ship, Friendship of Salem, will be open from 10:00 am to 4:00 pm, with hands-on cargo loading and sail setting activities, Junior Ranger booklets, and National Park Service Rangers and volunteers will be on hand to introduce visitors to the lives of sailors, captains, and merchants in the Great Age of Sail.
The 2014 Salem Maritime Festival is hosted by Salem Maritime, your national park in Salem in cooperation with the Essex National Heritage Commission.
Posted by Kate on 07/31 at 10:31 AM
Permalink
New
Special Events

Free Guide!