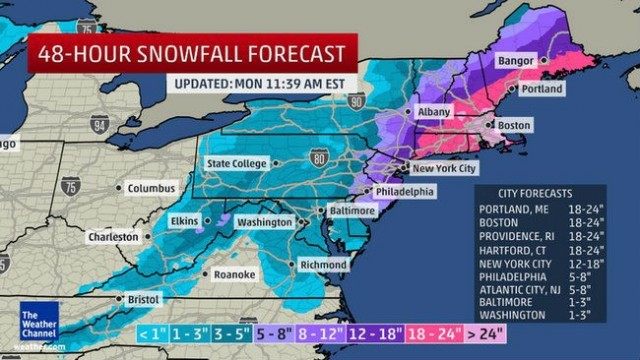 It's being called the Snowcopolypse. Snowmaggedon. Snowicane 2015. Juno. Whatever you call it, the National Weather Service website is red with warnings about the impending blizzard, potential coastal flooding, and general need to stock up on milk, bread, and eggs.
Storm followers may want to click over to Mass MEMA where information on statewide closures (state offices, MBTA, etc.) can be found, as well as other practical storm information. The Governor has issued a Statewide Travel Ban effective Monday night, so please hunker down and stay safe during the storm.
All MBTA service will be suspended on Tuesday, January 26. And that is just the tip of the, well, iceberg.
We think you should stay home, hunker down, dig out, drink hot chocolate, build a snowman. If, however, you do find yourself heading out in Salem, call ahead or check Facebook for business closures. We will post closures and openings here as we hear about them.
City of Salem Snow Emergency and Parking Ban Information - Salem.com
What's Closed
Firenze Trattoria will reopen at 4:30 on Wednesday.
Caffe Graziani will be closed on Tuesday and possibly Wednesday depending on the extent of the storm.
Flying Saucer Pizza will be closed on Tuesday. Monday Night Nerd Trivia is cancelled as well as night time deliveries. They will be open as late as possible on Monday for dine-ins and pick ups, weather permitting. Check Facebook for updates.
The House of the Seven Gables will be closed Tuesday due to the inclement weather forecast. The Gables will be closed this Wednesday and every other Wednesday through the end of March (with the exception of Feb 18th). The Emerson "Tad" Baker Lecture scheduled for Tuesday, January 27, has been rescheduled to February 24.
The Marble Faun is closed until Thursday.
Maria's Sweet Somethings will close at 5:00 PM Monday and be closed on Tuesday. They will reopen on Wednesday at 12:00 Noon.
Milk & Honey Green Grocers will be closed on Tuesday (pick up your milk, produce, cheese, and meat on Monday before 6. They are likely to close early. Their post on Facebook advises calling ahead.)
Pamplemousse plans on being closed to weather the snow storm safely on Tuesday. However, they are open today until 7pm for all your last minute emergency wine and beer needs.
Peabody Essex Museum will be closed on Tuesday.
Roost & Co. will be closed on Tuesday. Plaing it by ear for Wednesday.
Salemdipity will be closed Tuesday and Wednesday.
The Salem Inn will be closed on Tuesday.
The Salem Witch Museum will be closed on Tuesday, January 27, 2015 due to the impending "Storm of Historical Proportions."
Salem State University has canceled the Otis Murphy concert scheduled for tonight. All Salem State programs and classes are canceled for Monday night and Tuesday.
Tavern in the Square is closing at 6pm on Monday and will be closed on Tuesday.
Trolley Depot will be closed Tuesday and maybe Wednesday.
Turner's Seafood is serving serving lunch to 4:00 PM on Monday and then closing. Turner's will be closed on Tuesday. Wednesday hours are to be determined. Please check Facebook, Twitter & their website for updates.
What's Open
Coffee Time Bake Shop will have a skeletal crew, and the cases won't be at their normal capacity but there will be plenty of hot coffee.
Gulu-Gulu Cafe plans to stay open through the storm.
The Hawthorne Hotel is always open. And they have a fireplace in the Tavern, which is perfect for sitting fireside with a bowl of Steve's Chowder and a glass of red wine.
Naumkeag Ordinary is hosting a Blizzard Party on Tuesday at 6pm, during which they will be serving free American Chop Suey. They are "definitely open throughout the storm!" (We applaud their New England spirit.)
Longboards Restaurant plans to operate normal hours as long as possible.
And somewhere in between
Ugly Mug Diner will be closed in the morning on Tuesday and hopes to open for lunch. Check their Facebook page for updates.
We will keep updating this page as we receive information, as long as the power stays on! Stay safe, and happy Blizzard!
Posted by Kate on 01/26 at 02:16 PM
Permalink
New
Special Events
Featured Events

Free Guide!