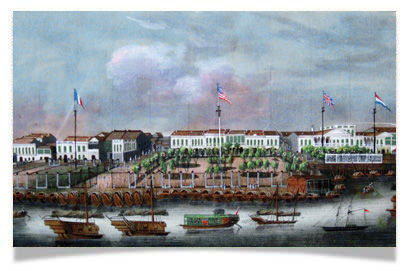 Salem, among other sites, is featured in the China Trade Trail brochure, a publication of the Forbes House Museum in Milton, Massachusetts.
The China Trade Trail beckons you to ten Massachusetts destinations in pursuit of the American China Trade, a phenomenon in our nation's history. The Revolutionary war was won! No longer would citizens be tethered to economic constraints dictated by England. In the 19th century, entrepreneurial merchants, based in Boston, seized the opportunity to trade with the East. At first, departures to China took place from the exotic port at Salem. As trade accelerated, operations moved to Boston to accommodate larger ships, due to its deeper waters, and provide more docks to meet the demand of growing fleets.
The China Trade Trail features eleven locations in eastern Massachusetts, including the Salem Maritime National Histoirc Site and the Phillips House Museum. The featured sites will share with you the stories of sea captains and their families, treasures brought back from afar, and their adventures establishing trade with ports along the Afircan, South American, and American Pacific Northwest coasts.
We feature the China Trade, and Salem's Sea Trade in the 2014 Salem Guide. You can view the 2014 guide, and request a free copy of the Guide, at Salem.org/Guide.
Posted by Kate on 07/26 at 08:00 AM
Permalink
New
Special Events

Free Guide!